Silver/Chrome plated no-slip clips are used on these Under-Up suspenders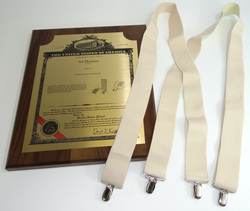 Similar to the elastic fabric used in a THICK ACE Bandage, these super flexible skin tone tan suspenders have our Patented no-slip clips holding up your pants or shorts.
A smooth velcro type strip adheres to Micro fiber backing as a simple length adjustment system allowing you to quickly tailor these under-your-shirt suspenders to your height.
The X-back style crossover is just double nylon stitched, without the usual leather Holdup crosspatch. Results are less bulk and the unbelievably soft fabric can be comfortably worn next to your skin. Try them out with shorts, with surgical scrubs, or use your imagination as to where you'd prefer to wear a pant suspender that doesn't show on top of your shirt. Another Patented innovation in men's fashion accessories from Holdup Suspender Company since 1997.
All under-garment Holdups (Under-Ups™) now come with the smooth "flush Webbing" system for adjusting the suspender length. Exclusive velcro type strip and our USA made suspender straps with Micro grip backing eliminates bulky adjustment buckles. These straps also are machine or hand washable.
We now offer additional styles of super soft "under your shirt" suspender styles sold below. The
original X-back style
without any leather crosspatch and 4 nickel finished no-slip metal clips for $19.95 in standard 48" length and 4" XL models. The other 2 are Hip-Clip suspenders that attach at the waist with just 2 clips for $19.95 each.
---

Hidden super soft medical suspenders worn under any loose fitting shirt to holdup pants, shorts, adult diapers, hernia trusses. Won't harm sensitive wound bandages and can be worn next to skin or over a t-shirt.
---
These invisible undergarment suspenders also come with Patented composite plastic Gripper Clasps in 2 different styles for 19.95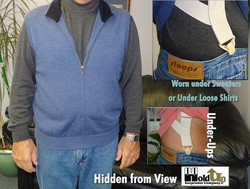 These are used in all our No-Buzz airport travel friendly line of suspenders for frequent travelers that use our newly patented composite plastic "Gripper Clasps" which won't trigger metal detectors...
( undergarment suspenders worn next to skin, like all underwear items, cannot be returned once used due to health code restrictions ) US Patent # 8,209,779AirPort Friendly Holdup's undergarment super-soft No-buzz Suspenders won't trigger metal detectors and are the top sellers in our undergarment lineup sell for only $19.95
. These use the new improved Patented Composite Plastic Gripper Clasps™ and a Velcro type strip length adjuster for smoother lines under your shirt.
Additional Hold-Ups with plastic No buzz™ clips... click here!
These plastic Gripper clasps in black or light beige are designed to grasp tighter the harder you pull on them. Definitely a bargain for those needing a rugged comfortable suspender to wear with shorts and slacks under a loose fitting shirt.
---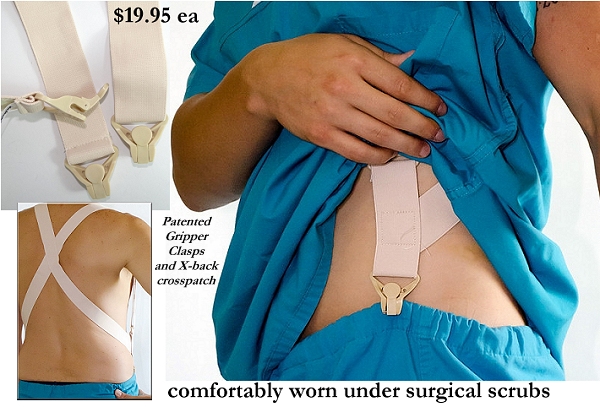 Medical staff should not have to worry about their scrub pants slipping due to an Iphone or Wallet in the rear pocket, nor should sterilized surgeons have to be embarrassed with a colleague tightening their pants for them. Something entirely new in Medical Scrub Fashion, or simply a more comfortable way to support light weight pants.

These Invisible Suspenders are made from a super soft poly-blend washable elastic fabric, they are 1 ½" wide and adjust to 48" long. Similar to the material of an Ace Bandage, these flexible skin toned tan suspenders, are worn like a vest or backpack and attach to the waistband at the hips. They feature the option of 2 patented no-slip Gripper Clasps or our patented no-slip metal clips, which are guaranteed to give the wearer the support they need throughout a rigorous shift. Attached or detached with ease,the wearer can take restroom breaks without having to remove their shirt, and our patented velcro
adjustment system allows the wearer to tailor the suspender to your height with no bulk.
| | |
| --- | --- |
| | Worn under Uniform shirts in the food services industry -Chefs - Surgeons - Bakers -wait staff -Fast food restaurants for practical comfort |
| | Comfortably worn under those surgical scrubs by Doctors -Nurses -Patients and those liking the loose fitting comfort of a pullover scrub shirt without the drawback of keeping up those draw-string pants. |
| | Millions of Ostomy belt wearers find these as a more comfortable, affordable alternative to binding belts, Perfect fashion accessory for Colostomy, Ileostomy, or Urostomy bag wearers. |
| | 1 1/2" super soft washable fabric in all the men's styles with 48" length and 1 1/4" width in our Maternity Under-Ups with a shorter length. Now available in a XL 54" max length for tall & larger men with Plastic Gripper Clasp or the Metal clips. |
| | Washable USA made fabrics and we offer a 30 day unconditional money back guarantee if your dissatisfied for any reason with any Holdup Suspender Product. ... Under-Ups™ have USA Patent # 8,209,779 |
Order Under-Ups with Metal or Plastic Gripper Clasps suspenders for $19.95
The composite plastic Gripper Clasp Under-Ups work great for wearing after any post stomach surgery proceedures. Wear them with adult diapers or when you have a colostomy bag and can't wear a belt.
Side Clip Hidden Under-Ups with composite plastic Gripper Clasps are DME insurance reimbursable .. click for details

Introducing 2" wide Under-Ups in 4 styles including two Extra Long XL models for $3 more. If you wear loose fitting shirts with pants or shorts you'll love the the extra comfort of our 2" wide undergarment suspenders made to fit the bigger man.
2" Hip-Clip Under-Ups Click here... 2" Traditional 2 clip Under-Ups including XL models and buy from the totally redesigned web site Suspenders.comwhich are priced from 21.95 to 24.95 for the Xtra Long (XL) models.