Invisible Under-Up Suspenders worn under any loose fitting shirt of blouse for Medical reasons... definitely the most comfortable way to Holdup your pants.... Doctors and nurses love these too for wearing with hospital surgical scrubs.

---
Finally a super-soft invisible clip-on suspender made to wear after surgeries.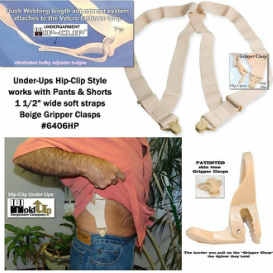 Introducing a invisible super comfortable pant clip-on suspender made to be worn under your shirt or blouse .. next to your skin. USA made Medical and maternity hidden suspenders are available for sale here at MedicalSuspenders.com using the secure shopping cart offered by the Holdup Suspender Company since 1997. These medical suspenders are all priced from 21.95 to 26.95. We offer several styles using the new patented gripper clasp (Suspender Buckle) model in both the side clip-on (Hip-Clip) style and the traditional X-back 4 clip style. Invisible Under-Up Suspenders, the only suspender made to be worn discreetly and comfortably underneath your shirt on the skin for medical reasons. These are just the most comfortable way to Holdup your pants. The Hip-Clip side clip model #4606 with plastic gripper clasps is often prescribed as a reimbursable DME ( durable medical device # A4466 ) by Urologists, surgeons, and family MD's and then submitted to any insurance carrier for a medical equipment refund. Tell your doctor or HME supplier to call Holdup Suspender Company for details or call our Home Office for reseller information..

USA made patented medical suspenders brought to you by the Holdup Suspender Company, the most trusted brand in the suspender industry, since 1997.These are totally Unique Undergarment Suspenders trademarked under the name Under-Ups. Comfortable hidden or invisible suspenders are something entirely new in men's and women's clip on suspenders.

The poly-blend 1 ½ inch wide super soft washable elastic material, similar to an ace bandage, comfortably lays directly on your skin underneath your shirt, blouse or medical scrub. Our patented plastic cam activated gripper clasps are guaranteed to never slip off of the material its holding, and can be quickly and easily attached or detached at the side of your pant waistband. The newly patented flush velcro adjustment system makes it extremely easy to adjust the size to fit comfortably, and avoids bulky adjusters showing through your shirt. We eliminated bulky metal or plastic length adjuster to give these a smooth invisible line under any loose fitting shirts, surgical scrubs and blouses.

BENEFITS... Comfort … Security… Improved Body Image… Posture - no pressure on abdomen

Use our medical Hip-Clip style Under-Up suspenders to support Adult Diapers, Jock Straps, Maternity Pants, Surgical Scrubs or simply with shorts under a loose fitting shirt, jacket or sweater. Simply slide your arms through the super soft straps ( like putting on a backpack) and attach to your waistband with just 2 clips. Certain models are made with all non-metallic materials (metal free), so these hidden suspenders can be worn when passing through Airport Security or secure building metal detectors without having to go throuh the hassle of removing them.

We now offer 4 super soft "under your shirt" suspender styles. The original 4 clip X-Back style without any leather crosspatch for less bulk and the patented Hip-Clip style, Both are available with your choice of our patented nickel no-slip suspender clips or our cam-activated composite plastic gripper clasps. Another patented innovation in men's fashion accessories brought to you by the Holdup Suspender Company, online since 1997.

---

The 1 1/2" no-buzz hip-clip style with the composite plastic gripper clasp is reimbursable by the major insurance carriers as a durable medical equipment (DME) HCPCS code: A4466 , product #6406HP Hip-Clip plastic Gripper clasp model sells for $19.95
TOTALLY UNIQUE.. The super soft poly-blend washable elastic fabric is 1-1/2" wide and adjusts to 48" long. The new velcro type Flush length Adjustment system is used in all our suspenders work under your shirt. Now available in New XL (eXtra Long) option which has a max adjustable length to 54" inches for the big and tall man.
We now offer 4 super soft "under your shirt" suspender styles. The
original X-back style
without any leather crosspatch and 4 nickel finished no-slip metal clips for $21.95 in standard 48" length. The other 2 are Hip-Clip suspenders that attach at the waist with just 2 clips. One of the Trucker Style side-clip models uses two chrome plated metal no slip clips, and the other selling for $21.95 to 26.95, uses
the composite plastic cam operated gripper clasp (Suspender Buckle) in light beige or black
color make these hidden medical Holdup pant suspenders better by patented design than any other suspender on the market.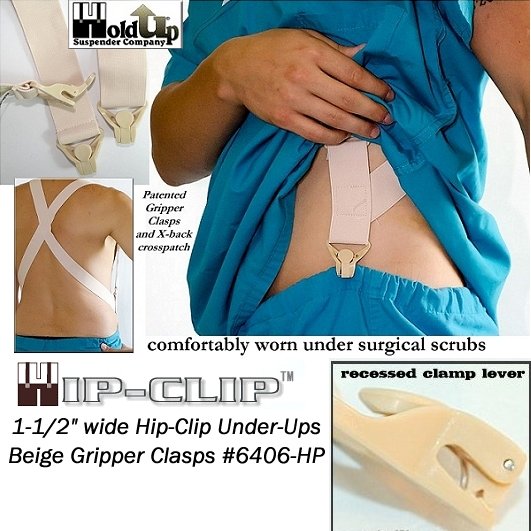 Purchase Under-Ups to wear under your comfy surgical scrubs... $21.95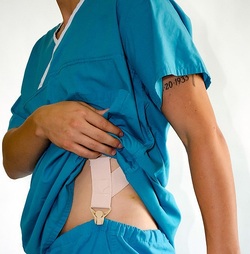 Medical staff should not have to worry about their scrub pants slipping due to an Iphone or Wallet in the rear pocket, nor should sterilized surgeons have to be embarrassed with a colleague tightening their pants for them. Something entirely new in Medical Scrub Fashion, or simply a more comfortable way to support light weight pants.

These Invisible Suspenders are made from a super soft poly-blend washable elastic fabric, they are 1 ½" wide and adjust to 48" long. Similar to the material of an Ace Bandage, these flexible skin toned tan suspenders, are worn like a vest or backpack and attach to the waistband at the hips. They feature the option of 2 patented no-slip Gripper Clasps or our patented no-slip metal clips, which are guaranteed to give the wearer the support they need throughout a rigorous shift. Attached or detached with ease,the wearer can take restroom breaks without having to remove their shirt, and our patented velcro type adjustment system allows the wearer to tailor the suspender to your height with no bulk.

Also available in our traditional X-Back style, with your choice of patented metal or plastic clips, we now have extra long 54" inch length suspenders available for our big and tall customers. Try these totally unique Under-Ups out just once with your scrubs and you'll never take them off. Great with scrubs, shorts, pants or just use your imagination as to where you'd prefer to wear a pant suspender that does not show over your shirt. Another patented innovation in men's fashion accessories from the Holdup Suspender Company since 1997 using our exclusive suspender clips.
---
Motorized Hospital and regular bed sheet corner fasteners cure the problem of fitted sheets coming loose on the corners.

Support for all our customers is a top priority at Holdup Suspender Company Inc which is a family owned business. We pride ourselves in making our lifetime customers happy and reply to any and all complaints. Give us a call or e-mail our staff as we are here just for you ...and because of you! 2" Under-Ups for the bigger man are available at www.Suspenders.com Toll Free # 1-800-700-4515
Reg # (248) 386-0252 Fax (248) 352-1185
SnailMail: Holdup Suspender Company, Inc.
21421 Hilltop St. Suite 16
Southfield, Mi. 48033E-mail your request: sales@suspenders.comBilling information ..Judee@suspenders.com






XtraLong Holdup pant Suspenders Tan Models (10) & Black Choices (11) now in stock.

The dual clip Designer Double-Ups™ men's braces come in a variety of tasteful patterns all featuring our newly re-designed no-slip Holdup suspender clip.

Top Selling Holdup Suspenders:

White Suspenders Black Suspenders Red Suspenders Wider Suspenders Single clip-on modelsThin Suspenders for Teens & Gals Holdup Top Sellers Soft Undergarment Suspenders Maternity Suspenders Leather Holdup Suspenders No-Buzz airport friendly suspenders